Dear Physics Educator,
We hope that this has been a great summer so far! This issue highlights some resources for you and your department as you gear up for the next semester, and provides updates on key APS programs and activities. We also invite you or your department chair to update your department's listing on our female friendly graduate program survey so that prospective students can evaluate your program accurately and consider applying.

Best,



Arlene Modeste Knowles
Wavefront Editor
P.S. We welcome your feedback on Wavefront so that we can continue to improve it for you!
FOR DEPARTMENTS
Update Your Department's Female Friendly Graduate Program Survey
The APS Committee on the Status of Women in Physics (CSWP) has developed a survey about graduate programs in physics that may help those interested in assessing the climate for women at various graduate schools. All responses are self-reported by department chairs (or their assignees).

To update your department's responses, please email women@aps.org.

For department responses to the survey »
Funds to Diversify Your Colloquium Series
Open: Academic Year - First Come First Served
The APS Travel Grant Programs for Women and Minorities allow departments to apply for travel reimbursement funds for bringing women and minority physicists into their departments to give colloquium talks. To learn more and apply, visit:

Women's Program
Minority Program
FOR ALL
APS Bridge Program Off to an Incredible Start in First Year!
The APS Bridge Program has placed at least 14 students into physics bridge programs or directly into graduate programs! Seven students were named Bridge Fellows at the newly selected APS Bridge sites; University of South Florida and the Ohio State University. Each site was also able to admit one student directly into their graduate programs. APS-BP applicants were also considered by other graduate programs, and sixteen offers of admission made to ten students. Five of these students accepted offers, and at press time, five students have offers pending, leaving the potential of APS assisting possibly up to 19 students into graduate programs in physics during the first year of the bridge program.
APS Releases New Poster on Quantum Information
The "Quantum Information" poster is an attractive and informative introduction to cutting-edge quantum physics technology for high school and undergraduate students. Designed jointly by APS and the Joint Quantum Institute, the poster highlights ongoing research into the tiny building blocks of our universe. A copy will be sent to every physics department chair in August. Additional copies can be ordered online.
APS Outreach Travels to Comic-Con
For the fourth year in a row, APS's outreach team traveled to Comic-Con International in San Diego California to distribute thousands of their "Spectra" comics. The heroine of the series teaches kids about the physics of lasers, force and motion, fluid dynamics and thermodynamics. Read More »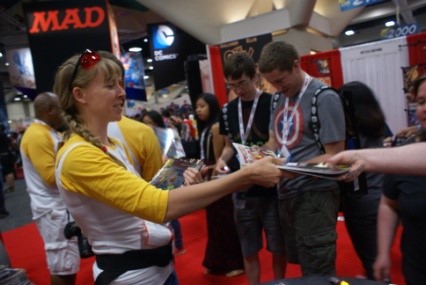 Physical Review X (PRX) Established As Significant Physics Journal
PRX debuted with a high impact factor which establishes it as a significant multidisciplinary physics journal. The impact factor measures the frequency in which the average article in a journal has been cited and is an indicator of the relative importance of a journal within its field. Read More »
FOR FACULTY
Learning Opportunity: PhysTEC Workshop Focused on U of Colorado Learning Assistant Program
October 27-29, 2013 – Boulder, CO
The PhysTEC project will co-sponsor its fifth workshop focusing on the University of Colorado's Learning Assistant program. This highly supported peer teaching experience has been shown to improve students' learning and attitudes toward science in undergraduate lecture classes and recruit talented science and math students into teaching careers. Learn More »