Science Policy Opinion
Congress Should Work Together to Ensure America's Global Competitiveness
By U.S. Sen. Gary Peters, D-MI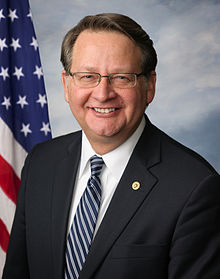 The American economy is powered by the leaps and bounds in innovation that generate new products, launch new industries, and create the jobs of the future. Investments in scientific research and development are at the heart of our innovation economy, and without those steady investments, America is at risk of losing our competitive edge. Unfortunately in recent years, federal investment in research and development as a percentage of GDP has dropped to historic lows while our global competitors have doubled down on science funding and education.

While this shortsighted approach jeopardizes our nation's international standing as the world's scientific leader, President Trump's 2018 budget proposal—which slashes funding for science across the board—only further threatens America's economic competitiveness.
---
If we are serious about creating jobs and boosting American manufacturing, we must recommit to making smart investments in science that drive innovation and job creation to ensure our nation's long-term economic success.

Last year, I worked with my Republican colleague, Senator Cory Gardner of Colorado, to pass the bipartisan American Innovation and Competitiveness Act, which sets federal research and development priorities for the coming years and supports scientists and engineers as they drive our economy forward.
---
This law helps cut down on paperwork so scientists can focus on their research and strengthens technology transfer to help entrepreneurs turn their discoveries into successful businesses. Importantly, this law reaffirms America's merit-based peer review system for funding scientific research—the gold standard for the international research community. Scientists should have the freedom to pursue compelling scientific problems—and the federal government should encourage that research—without having to know how those discoveries will be applied decades from now.
As a Senator from Michigan, the birthplace of the American auto industry, I'm excited by the potential of self-driving vehicles to save lives and change the way we get around. While today's researchers are developing and testing new autonomous systems and communications technologies, they are relying on scientific advancements first made more than 50 years ago.
Before these modern uses were even imagined, federally funded scientific research was helping to create many of the technologies that will make self-driving cars work. Laser imaging systems that sense objects on the road, called LIDAR, were initially developed for weather sensing by the National Center for Atmospheric Research in the 1960s. The Global Positioning System (GPS) that tracks vehicle locations is derived from the transit satellite navigation system developed in the late 1950s by the predecessor of the Defense Advanced Research Projects Agency (DARPA). The machine learning techniques that autonomous vehicles use to make decisions on routes and changing road conditions are based on artificial neural networks first developed in the early 1950s by the Air Force Office of Science Research.
Without the federal investments in the last century to help spur this technology, the United States would lag behind other nations' technological capabilities. If our country is to remain competitive in the coming decades, we must make it a priority to encourage discovery and innovation in the United States now so we can reap the benefits in the decades to come. But President Trump's budget proposal contains massive cuts across the scientific enterprise, including the complete elimination of programs like the Department of Energy's ARPA-E that ensure that we manufacture, rather than import, the next green energy technology. These cuts, coupled with recent efforts to silence scientists based on a political agenda, undermine our nation's role as a leader in innovation.
---
Competitiveness is not a partisan issue, and Congress should work together to ensure that our nation's scientific enterprise is sufficiently funded to continue leading the world.
---
The scientists and researchers driving this innovation forward are the very best advocates to make this case to policymakers. Scientists have the expertise to explain how today's particle physics experiment or computational breakthrough may lead to tomorrow's new smartphone or cure a deadly disease. From basic research to innovative new industries, the American scientific enterprise has the power to help determine our nation's future for decades to come. But these technologies and discoveries that improve daily life are more than a boon for our economy—they are worthy pursuits that help change our world for the better. Congress and the scientific community should work together to ensure that basic science research - and all the dividends it yields - remain a policy priority that will ensure American economic prosperity for the future.
U.S. Senator Gary Peters serves on the Commerce, Science and Transportation Committee and previously served as the Ranking Member on the Space, Science and Competitiveness Subcommittee.
---
In Other Policy News
Keep America Strong Through Robust Scientific Research (Op-ed first published in The Hill on April 10, 2017)
By Jessica O. Winter, The Ohio State University
Professor, William G. Lowrie Department of Chemical and Biomolecular Engineering, Department of Biomedical Engineering
Associate Director, Center for Emergent Materials: a National Science Foundation Materials Science & Engineering Center
APS Members Take to Capitol Hill to Advocate for Robust Funding of Scientific Research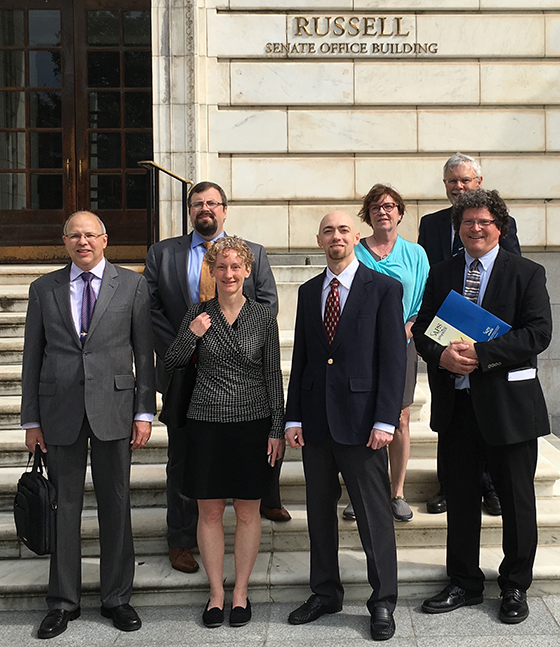 APS members -- in town to participate in the March for Science -- took advantage of meeting with their congressional representatives on the importance of funding a sustained, robust budget for science agencies. Front: David Boehnlein, Beth Parks, Josh Sayre, Reinhardt Schuhmann; Back: Daniel Lascar, Ellen Clyne, William Fawley
---
Capitol Hill Dispatch is a publication of the American Physical Society (APS). APS is a non-partisan, professional society of physicists with approximately 54,000 members. The newsletter contains science policy news and opinions, as well as information about physics and APS.